Serve in Denver
Trinity Mask Makers Project (nEW)
MetroCaring and We Don't Waste, Trinity's local non-profit partners, are still at it – providing food for families needing help during the current pandemic . And our support is needed in the form of non-medical fabric masks that can be made in our homes for their staff and volunteers. You've seen the pictures of community members making and donating masks, and some of you have already been part of that fabulous movement! Sew, trade/donate materials, cut, pickup and deliver using safe-distanced practices are all ways we've identified that Trinity folks can be part of making a difference through masks! This is appropriate for individuals and families! Contact Deb Meyer (dmeyer@trinityumc.org) to connect with the Mask Makers Project Community Group.
---
God cares deeply about our neighbors
Trinity serves it's neighborhood, downtown Denver and in the neighborhoods where our community lives! We believe serving others is an expression of God's love!
---
Phil tompkins serving those that experience homelessness
Phil Tompkins (center, blue shirt) an active member of Trinity UMC, Trinity Academy, and a 21 year volunteer at St. Francis Center, was featured on the opinion page of The Denver Post Monday, March 30. Kudos Phil for your continued service highlighting the need and encouraging city sectors to create and maintain safe and decent housing for our homeless neighbors!
---
Retired chaplains and faith leaders needed for National Jewish Health in Denver
There is an immediate need for on-call Chaplains and Faith Leaders to serve at National Jewish Health, 1400 Jackson St., Denver, CO. This service is on a volunteer basis only.
Starting Monday, 3/23/2020, National Jewish Health (NJH) will be receiving inpatients from other hospitals. At this time they will either be overflow of patients without Covid-19 or individuals with Covid-19 who don't need ventilation or are on palliative care. Which group of patients are received is based off of what need comes first.
NJH does not typically have inpatients and so does not have a faith leader on staff.
Elizabeth Langhoff is a social worker at NJH, and is making an "on call" list of chaplains and faith leaders from multiple denominations and faith traditions in case any of these incoming patients request to see a chaplain/faith leader.
NJH is considering both online an in-person care. NJH is willing to provide Personal Protective Equipment (PPE) and also provides appropriate training regarding to how to protect yourself as much as possible. They also have the ability to provide chaplain care over video and phone conferencing as well.
If you are willing to provide chaplain support, please contact: Elizabeth Langhoff, LCSW, Social Workers at National Jewish Health. 303-270-2743 or langhoffe@njhealth.org.
Note: As this time NJH is not offering pay and asking for volunteers only.
---
casa de paz

Trinity served God's children from Cuba and Guatemala recently doing small things with great love at Casa de Paz in Aurora. This ministry seeks to ease the isolation of immigrant detainees through hospitality.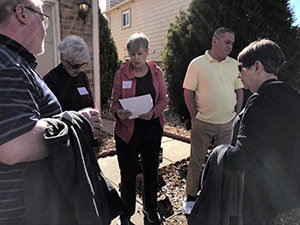 ---
Fill a Backpack
Just in time for Back-to-School! Trinity partnered this summer with A Precious Child for their Fill A Backpack Donation Drive to collect school supplies and backpacks for local children living below the poverty line. A team of 10 from Trinity was on hand to distribute the backpacks.
Read the article from the Broomfield Enterprise
---
Learn more about the local nonprofit organizations Trinity partners with and how to volunteer here!